Some people consider them the best part of the movie going experience – the Movie Trailer. Take a look at the evolution of the "coming attractions" from simple silent film splices, through the template style of the Golden Age of Hollywood, to the Auteurs of the 60s and finally into the Blockbuster era.
Source: Filmmaker IQ
> Posted in Trailer News
---
To help drive home the point that you shouldn't ruin a movie by talking, using your phone, or snacking excessively loud, Coca-Cola created a fake movie trailer featuring people in the actual theater disrupting the action on screen. Which served to drive home the clip's tagline: "When you make noise during the movie, you become part of it."
Using a green screen and a hidden camera in the theater's lobby, unsuspecting patrons were filmed and then immediately composited into a fake trailer that served as a PSA reminding the audience to be polite and respectful to others while enjoying a movie. The turnaround time for pulling off such a stunt was incredibly tight given the clip had to run before the movie everyone was going to see, but there's no doubt it would have put everyone in that theater on their best behavior.
> Posted in Trailer News
---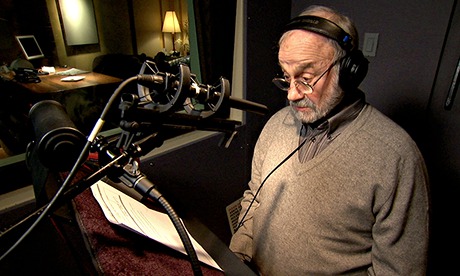 Hal Douglas, a leading voice-over artist for films, commercials and TV shows, died March 7 at 89. Photograph: MEGALOMEDIA
Hal Douglas, whose gravelly tones graced famous trailers for films such as Forrest Gump, Philadelphia and Lethal Weapon, has died. He was 89.
Douglas's daughter Sarah told the New York Times her father passed away following complications from pancreatic cancer. He was known as one of a top trio of trailer voiceover artists – the late Don LaFontaine and Don Morrow, voice of the Titanic trailer were the others – who came close to monopolising the industry for decades with catchphrases such as "In a world…".
"The fact is, my voice has been out there," Douglas told the Times in 2009. "And it hangs out there. You sit down in the theatre and sometimes in three out of four trailers I'd be on them."
While Douglas was well known for the "in a world" phrase, there was some disagreement over whether he originated it, with LaFontaine claiming to have used it first. Unlike his late contemporary, who hired his own driver to take him from Hollywood studio to Hollywood studio at the height of his career in order to avoid wasting time on parking, Douglas worked mainly in New York studios.
The voiceover artist's only known on-screen role came in the trailer for a 2002 documentary from Jerry Seinfeld, titled Comedian. While the film itself did not perform particularly well, Douglas's segment was viewed more than 700,000 times on YouTube. If features him repeatedly attempting to launch into the trailer with phrases such as "In a world…", "In a land…" and "In a land before time…" while being unceremoniously interrupted (and eventually fired) by a producer determined to avoid such cliched phrases.
Born Harold Cone in Stamford, Connecticut, in 1924, Douglas flew as a US navy pilot in the second world war for three years before enrolling at the University of Miami via the GI bill to study acting. He began doing voiceover work to supplement his income from acting in New York during the late 1940s, and soon became much sought-after.
Douglas's story is told in the 2013 short film A Great Voice, in which he decried suggestions that his deep baritone was anything special. "I never thought of it as a great voice," he said, suggesting it was in fact "throaty, chesty, a voice in need of clearing".
Douglas died on 7 March at his home in Lovettsville, north Virginia. He leaves behind his wife Ruth, a daughter and two sons from a previous marriage, Jeremy and Jon.
> Posted in Trailer News
---
During his post-Oscars show, Jimmy Kimmel imagined a few films that never quite made it to the big screen. He debuted four fake trailers inspired by some of the most famous viral videos in YouTube history and loaded with star talent.
Many of this year's Oscar nominated films were adapted from books, including The Wolf of Wall Street, Captain Phillips, and Twelve Years a Slave – but times are changing. Our plan is to escort the movie business into the 21st century, so we enlisted the help of some of the greatest talents in the world of film to help us adapt popular YouTube videos into big-budget Hollywood movies. Here's an adaptation of the YouTube classics "Keyboard Cat" "Hamster on a Piano" and "Dramatic Chipmunk" starring Kevin Spacey, Christoph Waltz, Gary Oldman, Ben Kingsley, Abbie Cornish and Mandy Patinkin. #Ameowadeus
Here's an adaptation of the YouTube classic "Sweet Brown – Ain't Nobody Got Time For That" starring Queen Latifah, Barkhad Abdi, Adam Driver and Matt Damon. #SweetBrown #AintNobodyGotTimeForThat
Here's an adaptation of the YouTube classic "Charlie Bit My Finger" starring Tom Hanks, Meryl Streep, Chris Hemsworth and Liam Hemsworth. #BitmanBegins
Here's an adaptation of the YouTube classics "David After Dentist" and "Double Rainbow" starring Joseph Gordon-Levitt, Catherine Zeta-Jones, Samuel L. Jackson, and Seth Rogen. #DavidAfterDentistDoubleRainbowOhMyGod3D
> Posted in Trailer News
---
By Amy Schatz
Remember the movie "Olympus Has Fallen," the 2013 popcorn flick about a guerrilla assault on the White House that is foiled by a heroic Secret Service agent? No?
Viacom, NBCUniversal and ESPN are likely to remember it for years to come, after getting slapped with proposed fines of nearly $2 million for airing a film trailer that used the Emergency Alert System tones.
On Monday, the Federal Communications Commission proposed $1.93 million in fines against the three programmers, Viacom ($1.12 million), NBCUniversal ($530,000) and Walt Disney Co.'s ESPN ($280,000), for airing the offending "Olympus Has Fallen" movie trailer multiple times.
Comcast Corp.'s NBCUniversal is an invester in Re/code.
Broadcasters and pay-TV operators are required to test the Emergency Alert System periodically to make sure it's working in case of an actual national or local emergency. The unmistakable tones are not, however, allowed to be used for other purposes, particularly a commercial.
The FCC began getting complaints about the commercial in early March 2013, after the spot ran on Viacom's Comedy Central channel. Within a few days, officials at the Motion Picture Association of America, the Society of Broadcast Engineers and other broadcast groups realized there was a problem and circulated word to members to stop airing the trailer.
"Frivolous, casual, or other uses of EAS Tones for reasons other than their defined purpose can desensitize viewers to the tones and thereby undermine the effectiveness of the system in the event of an actual emergency," the FCC said in its complaint. "Although admitting their inclusion of actual EAS Tones in commercials transmitted in their programming, the companies have questioned their liability under the Act and the Commission's rules."
A Comcast spokeswoman didn't have immediate comment about the proposed fine. In responses to the FCC, both ESPN and Viacom said they have changed their advertising guidelines and no longer allow ads that contain actual Emergency Alert signals or simulations of them.
> Posted in Trailer News
---